5 Villas in Ibiza to escape from the world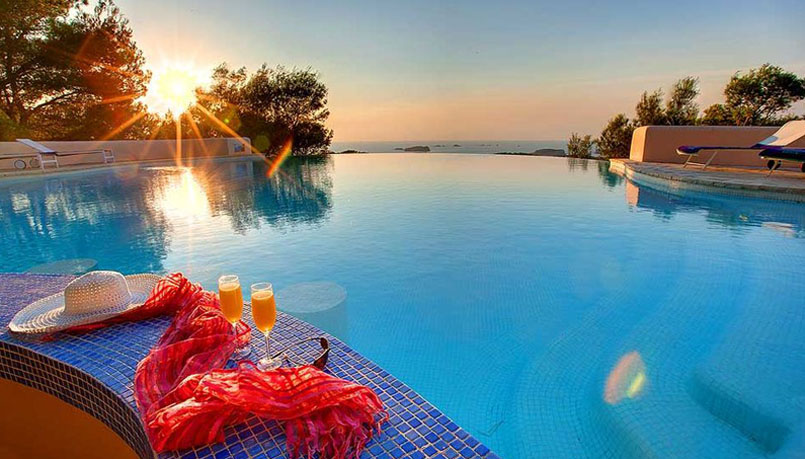 Ibiza can be a fabulous destination to show off.. or to hide. If you consider yourself part of those that prefer staying away from the world noises, discover five of our most isolated villas in Ibiza. Real retreats available to rent during summer 2019 and located in some of the most calm and remote corners of the island. The best choice for travelers that are looking for luxury and peaceful holidays in Ibiza or for those that want an extra privacy during their vacation.
The most isolated villas in Ibiza Villa
Ses Roques
An unpaved road leads to this spectacular villa in Ibiza with sea view located in the woods, only a few minutes driving from some of the most beautiful beaches of the island, Cala Conta and Cala Bassa. Ses Roques has a maximum capacity of 12 people, which is perfect for a group of friends or family. You will love the large infinity pool of 20 X 14m and its lounge area with views of the sea, the islands and the sunset.
Can Julio
In this villa built in a finca (farmhouse) of 7.000 square meters you will not only find a lot of privacy but also excellent panoramas. Its position on the top of a hill offers fabulous views over Cap des Falcó, the island of Formentera and the south coast of Ibiza. This charming villa based on the traditional ibizan architecture has a maximum capacity of 6 persons, has 3 bedrooms, 3 full bathrooms, a guest toilet, living room, American kitchen and a large terrace with a pool size 13 X 6 meters.
Can Toni d'en Benissait
Privacy and peace are guaranteed in this charming isolated villa in Ibiza recently remodelled and located inside 65.000 square meters private finca (farmhouse). Just a few minutes from the lovely beaches of Aigües blanques, cala Llenya and Es Figueral, we are sure you will love its architecture, the garden with fruit trees and the pool area. With a maximum capacity of 12 people, it's a perfect villa for a holiday with couples with children.
Ca na Xemena
Located in the north of the island, in a spectacular environment with views of the sea and cliffs, this villa is one of our best hideaways to can escape from the world. Both the house and its furniture were designed by the famous architect Ramón Esteve, which make this villa and excellent option if you want to enjoy a luxury holiday in Ibiza. It has a maximum capacity of 12 guests plus a service bedroom and its hidden ubication makes the property ideal for a journey with friends.
Casa Petita
For travellers looking for a countryside scent and aroma, this isolated villa in Ibiza in a traditional style with pool is simply perfect. With a capacity of 4 people and two bedrooms, its location in a finca (farmhouse) of 54.000 square meters and position in the hidden valley of Benimussa, it guarantees a large dose of relax and disconnection. An excellent farmhouse for holidays with children in Ibiza.
**