Get to know us better: the Ibiza of Loriane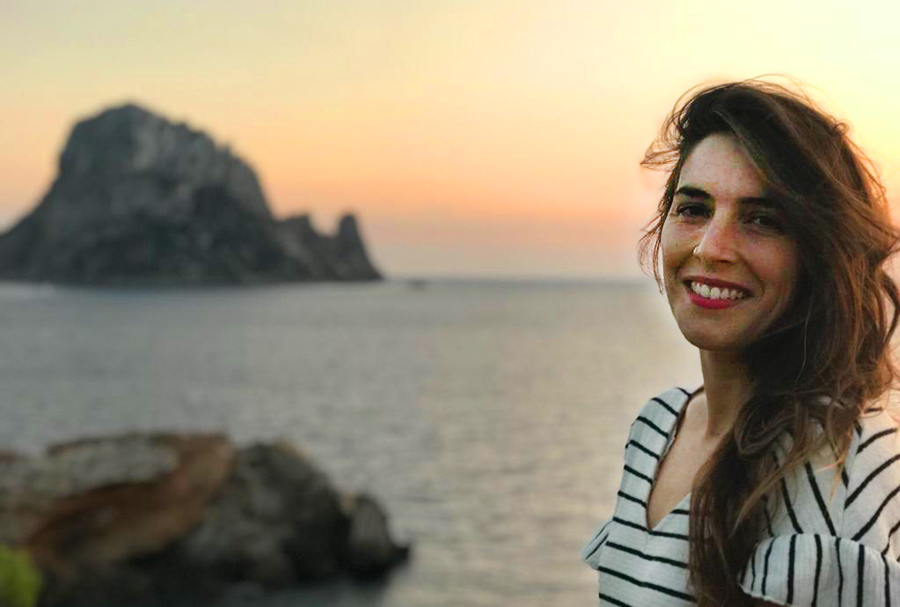 Loriane traveled from the mountainous landscapes of the French Pyrenees to the beaches and hills of Ibiza and fell in love with the island. Her passion for the island can be appreciated every summer by the Ibiza Villa's guests, whom she advises and assists in everything they may need during their villa rental in Ibiza.
Graduated in tourism, she speaks French, English and Spanish and has been working enthusiastically for Ibiza Villa since 2008, when she arrived on the island. This first season on the island brought her to live here. In this interview, she tells us about her experience at the agency and her favorite corners of Ibiza.
Loriane e Ibiza Villa
When did you come to Ibiza for the first time?
It was in 2006, during a 5-day trip with my older sister, during which I fell in love with the island. It was only a few days but very intense!
What did you like at that time on the island?
This trip was mainly summed up with party and beaches. But something else seduced me: the general atmosphere on the island, the tolerance of people, the landscapes … And the light on the island, which I still enjoy every time I come back.
When did you start working for Ibiza Villa?
I started working for the agency in 2008, after having decided, with my two older sisters, to go to work a summer season in Ibiza. When we arrived on the island, we found an ad in the Ibiza's Diary published by an agency that was looking for a babysitter for one of its clients in July. We called and … a few hours later, we met Marie Hélène for the first time. I started doing housework for the agency and the next month working at the office. Since then, 12 summer seasons have passed … always with the same conviction of wanting to offer the best services for a reliable villa rental in Ibiza!
You must certainly know perfectly the villas of your catalog, which one would you choose for a romantic holiday?
Can Puig de Mar for its magnificent sea view. Nothing better than admiring a sunset from its jacuzzi with a glass of champagne and strawberries!
And to enjoy Ibiza in silence and authenticity?
Can Basso or Casa Petita, two traditional fincas of Ibiza located in the middle of the countryside in a more than appreciable silence
What would you dream to buy?
Can Julio for its hilltop location in the Es Cubells area, with no neighbors, and breathtaking sea views.
What do you like most about your job?
The contact with people. Every day, I help new people coming to Ibiza to have a good time and relax while discovering the jewels of the island. My main mission is that customers enjoy 100% of their stay. I appreciate the time of check-in at the villa, when I explain them the house and recommend them the best places to enjoy a day at the beach, where to go out, where to eat, where to buy fresh vegetables, etc.
What are the three tips that you always give for a reliable villa rental in Ibiza?
The first: check the existence of the renter before paying; In fact, we receive every year calls from customers who are victims of scams on different websites. They arrive in Ibiza and there is no house, no renter ; and in some cases, they have already paid the full rental . And in the middle of summer, it's almost impossible to find a house for the same day in Ibiza!
The second: make sure the area in which the house is located meets the expectations of the group. For example: if you plan to party every night, do not rent a house in San Miguel, because you'll have 45 minutes each way (round trip !!). And conversely: a family looking for tranquility should not rent a house in San Antonio or Playa den Bossa because they are not child-friendly places.
And the third: make a list of all the needs of the group and contact the agency in advance to anticipate all kinds of services you may need: car rental, boat rental, babysitter, home chef, massages, etc. Indeed, these types of services are generally booked several months before the arrival to guarantee their availability. Find a baby sitter on the same day of arrival is impossible!
In short, to find a reliable villa rental in Ibiza, the best is to book through us, you will be sure to avoid any type of scams and you will be sure to have good advice and excellent services.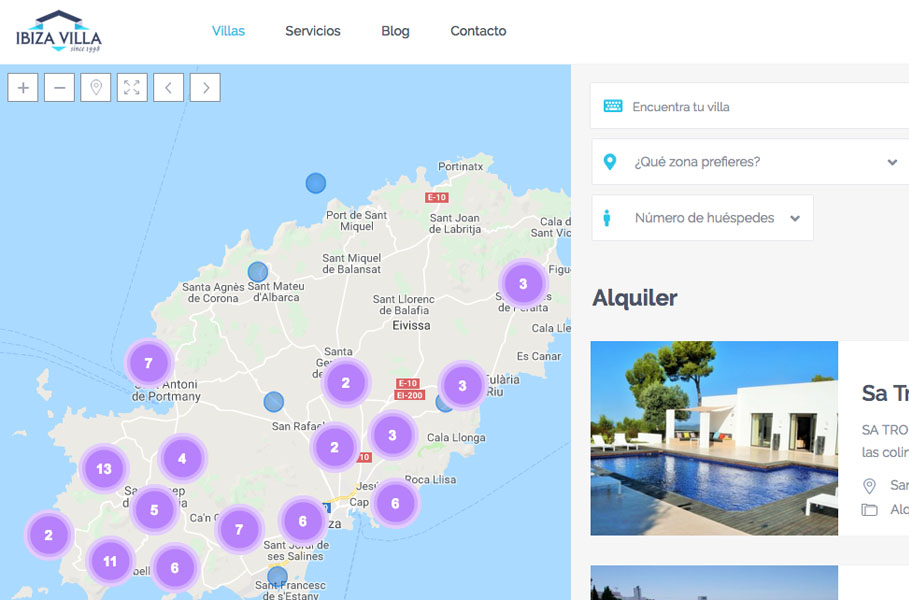 Loriane and Ibiza
What is your favorite beach or cove in Ibiza?
Cala Bassa for its landscape and its waters! But you have to arrive early and not be allergic to the crowd (laughs)
And your beach bar?
I love the atmosphere of Tropicana, in Cala Jondal, even if it's a rocky beach … I prefer sand!
In summer, you still love …
Go around the coves of the island by boat and finish the day with the sunset facing Es Vedra.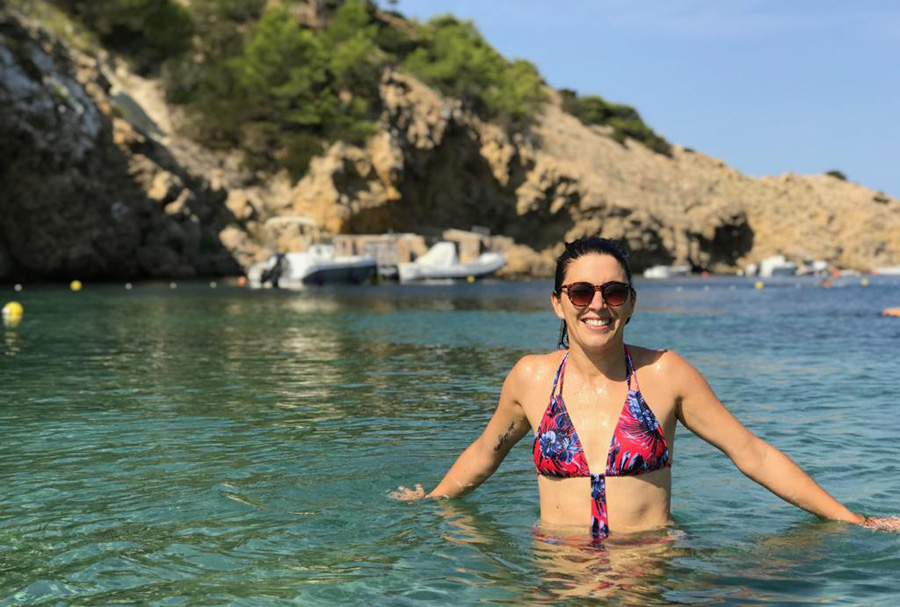 And in winter …
Enjoy the silent island, the almond trees in bloom of Santa Inés, have a walk by the local markets …
If you had to offer a souvenir of Ibiza, what would you choose between the following options:
A sobrasada or sheep's cheese with rosemary or paprika?: A sheep cheese without a doubt!
A bottle of Hierbas de Ibiza or an Ensaimada?: A bottle of Hierbas, but homemade if possible!
A cake "flaó" or a bag of "orellettes"?: A "flaó" cake, I love it!
A typical basket or an Adlib dress? A typical basket of the island !! So practical!
What are the 5 essential visits that you recommend to your clients?
A walk in Dalt Vila, without a doubt!
San Juan and its Sunday market.
A walk along the east coast of the island, from Es Niu Blau Beach to Es Canar.
A sunset in Es Vedrà, although today there are so many people that it is not as magical as before.
For the fifth … Contact me and I'll tell you (laughs)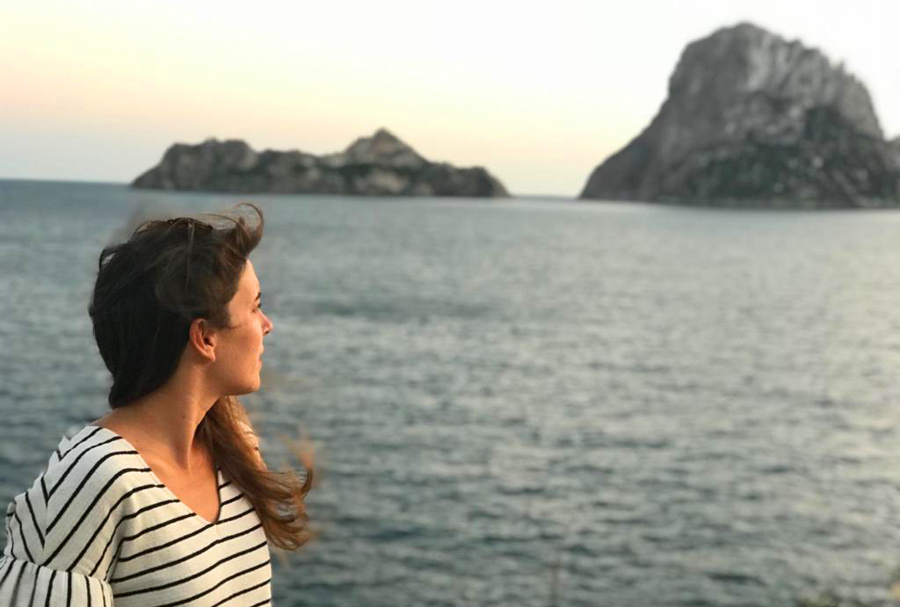 And the three restaurants that should not be missed on holiday in Ibiza?
Es Boldado, for its location facing Es Vedra and for its paellas!
Amante beach club, great place and quality food!
Can Berri Vell, for a trip back in time.
Finally, with what words would you define Ibiza?
Beauty, simplicity and authenticity.
***